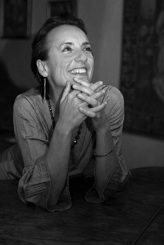 Frédérique Trunk was born in Colmar, France and graduated in 1986 from the Conservatoire de Musique de Strasbourg with Honors in Piano, Ear Training & Theory. She earned a Certificate of Chamber Music & Sight Reading, and graduated with a diploma in Musicology from the Université des Sciences Humaines de Strasbourg . In 1992, Frédérique came to New York to study Jazz piano and harmony at the New School's Jazz and Contemporary Music Program with Kenny Werner, Fred Hersch and Maria Schneider. She has studied Jazz piano and composition privately with Art Resnick, Richie Beirach and Kirk Nurock, as well as William Allaudin Mathieu; and perfected her classical piano technique and teaching skills with Madeline Bruser.
As a soloist and bandleader, Frédérique has toured in Europe, Morocco, Japan, the United States and Canada. She performs in New York in many different settings and musical combinations from solo piano to quartets, quintets, and larger groups such as salsa bands.
In January 1999, Frédérique was the composer and musical director for the La Mama production, The Banquet of the Beheaded, a play by Nicola L. In December 2000, she composed and performed her first film score for The Sandman. David Teague's silent film, based on the tale by E.T.A. Hoffman, won First Prize at The New York International Independent Film and Video Festival in 2001. The complete score was released on CD in September 2001.
Frédérique has been teaching Classical & Jazz Piano, Improvisation, Music Theory, Harmony & Composition in various music schools in France, privately, and from 1993 to 2006, at the French American Conservatory of Music at Carnegie Hall, New York, NY.
In May 2006, she moved to Barcelona, Spain, to explore more horizons and enhance her music with new colors.
In the same idea of fusion of styles, she wrote an arrangement for piano and voice of the Livre Vermeil de Montserrat (catalan medieval music) inspired by jazz and contemporary music performed at the International Jazz Festival of Barcelona in November of 2008.